Harvey Debris Collection in Area 7-B Begins Tuesday
CORPUS CHRISTI, TX – On Tuesday, December 26, crews will begin picking up Hurricane Harvey debris in Area 7-B. This area is bounded by Ocean Drive to Horne Road between Morgan Avenue and Ayers Street.
Citizens living in Area 7-B must have debris set out by 7:00 a.m. Tuesday, December 26.
Area 7-B
Hurricane debris no longer needs to be separated. Tree limbs, brush, leaves and fencing (including fencing with attached concrete) will be collected. No loose concrete or tires will be accepted.
Residents can also take debris to the J.C. Elliott Transfer Station free of charge. The transfer station is located at Hwy 286 and Ayers Street. It is open Monday through Saturday from 8:00 a.m. to 5:00 p.m. For white items/appliance collection, call (361) 826-CITY (2489) to place a work order for pickup.
Debris Collection Schedule for Remainder of 2017*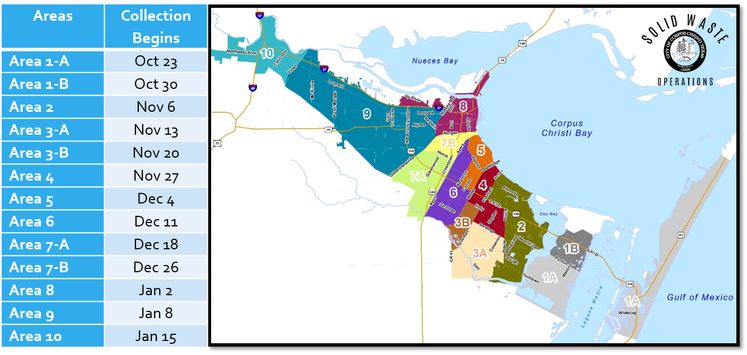 For more information, contact Public Information Officer Jesse De Leon at (361) 826-3248 or by email at JesseDL@cctexas.com.
*Schedules subject to change based on debris quantity, weather, and contractor availability.